Source: Institute of Wenzhou valve works: Unknown Date: 2019/12/10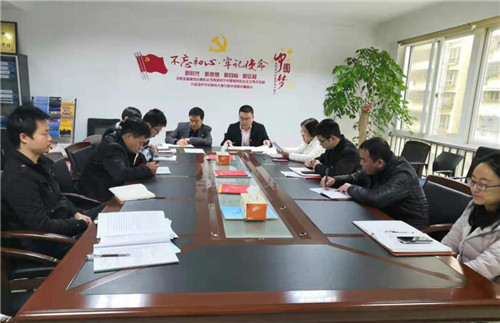 On the afternoon of December 5, 2019, the party branch directly under the Wenzhou Pump and Valve Engineering Research Institute held the 2019 special organization life meeting and democratic evaluation party members. All staff members of the Institute participated in the meeting, which was chaired by Secretary Cao Chi.
Cao Chi firstly conveyed the school's "Notice on the convening of a special education meeting on the theme of" Do not forget the original intention and remember the mission "in various party branches and carry out democratic appraisal of party members", and informed the preparatory preparation of this meeting of the Institute. The party members of the branch take the theme of "not forgetting the original intention and remembering the mission", centering on the requirements of "observing the original intention, shouldering the mission, finding the gap, and grasping the implementation", combined with the actual situation of their own work, from ideals and beliefs, ideology and politics, organizational discipline, role play, life Various aspects such as study are carefully carried out to carry out comparative inspections, investigate and analyze problems, and conduct self-analysis and self-criticism one by one.
Participants at the meeting believed that each party member could connect with his own work reality, seek truth from facts, and analyze problems in depth. At the same time, the direction and measures for future rectification are clearly defined. In accordance with the requirements of democratically appraising party members, everyone criticized bluntly and without ulterior motives, and put forward pertinent suggestions and opinions to every comrade, and objectively and fairly scored self-evaluated party members. Secretary Cao Chi finally asked the participating party members to combine self-assessment materials, strengthen theoretical learning, improve business level, and actively play the pioneering and exemplary role of party members, and contribute more to the development of the cause of the institute.